A collection of carefully designed, flexible, easy to assemble, precision mechanical and electronic components.


Like …
Links, Shafts, Spur Gears, Bevel Gears, Worm Gears, Racks, Geneva Mechanisms, Oldhams Couplings, Universal Joints, Pulleys, Bread Boards, DC Motors, Stepper Motors, Input Sensors, Outputs, Timers, Counters… etc., all with user friendly assembly tools and user friendly software.
Useful for building miniaturised models / prototypes of mechanisms, machines and Robots.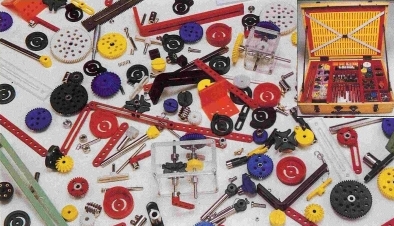 Over 1500 precision components in more than 100 varieties adequate for constructing even complicated Special Purpose Machines (SPMs).
Components are specially designed for easy assembly and dismantling.
Components possess in-built flexibility to ensure usefulness for versatile applications.
Required assembly tools are part of the kit.