MAKIT-KITs are available in three models.
MAKIT - Master : Contains all mechanical and machine elements.
MAKIT - Hitech : Contains all electronic and control elements.
MAKIT - Hifi : Contains all Hifi electronic control elements.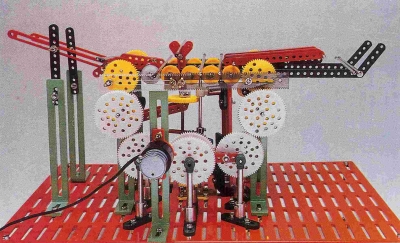 Now You Can…
-- Build your Dream Machine on your table.
-- Simulate, study & solve design problems.
-- Check suitability of Mechanism for proposed applications.
-- Save precious design & Manufacturing hours.
-- Use the KITS as an Excellent Visual Teaching & Training aid.
-- Use the KIT components for Project works.
-- Use the KIT components for ROBOTIC Competitions
Ideal for :
| | |
| --- | --- |
| * R & D Centres | * Robotic Labs |
| * Educational Institutions | * Mechatronics Labs |
| * Creativity Centres | * SPM Manufactures |